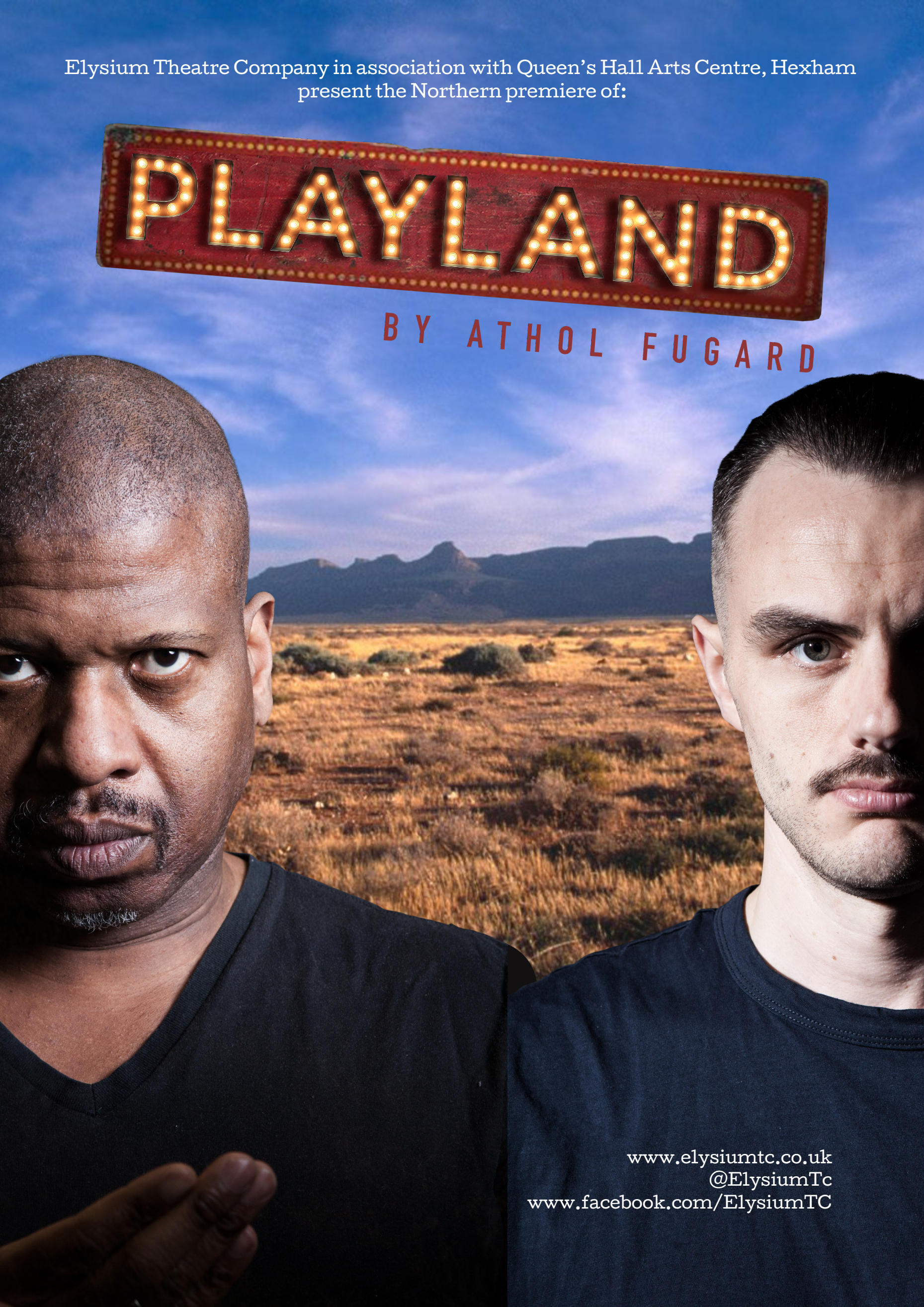 Thu 31st October – Saturday 2nd November 7.30pm
Elysium Theatre Company in association with
Queen's Hall Arts Centre, Hexham present the northern premiere of:
PLAYLAND  by Athol Fugard
with Danny Solomon and Faz Singhateh & Graham Eaglesham as the voice of 'Barking Barney' Barkhuizen
Directed by Jake Murray Designed by Louis Price
"ʺForgive me or kill me. That's the only choice you got.ʺ
South Africa, New Year's Eve 1989: a new country is about to born. On a run down funfair somewhere in the wilderness two men confront each other, one white, one black, both with blood on their hands. As night draws in, both must face what they have done, and work out their paths to redemption through their own process of truth and reconciliation.
Athol Fugard is South Africa's greatest living dramatist ("The voice of the conscience of his nation" – the Spectator) whose plays have been performed and filmed all over the world. 'Playland' is a dark and beautiful testimony to the power of the human spirit.
This northern premiere of Athol Fugard's 'Playland' comes to the Empty Space Theatre, Manchester from the same team that brought you 'Miss Julie' (Hope Mill Theatre), 'Jesus Hopped The A Train' (HOME) and 'Days Of Wine And Roses (53two).
Special Q&A with cast and creatives after the show Oct 25
PART OF #BLACKHISTORYMONTH
Thu 31st October– Sat 2nd November October 7.30pm
Tickets £10.50 (concessions £8.50)

Venue Hire
Would you like to hire a unique space in the heart of Media City?
What can we accommodate?
Our unique and custom-built theatre spaced, housed in an old industrial unit, can stage a wide range of performances including dramas, musicals, plays, graduate shows, showcases, one woman /man shows, comedy gigs, awards ceremony's, casting suite, birthday parties, company away-days, training sessions, rehearsals…and more!
Our clients
Recently we welcomed 'Into The Woods' by Manchester University, a sold out comedy night and two fringe shows (one of which debuted in New York), Jim Cartwright's Studio actors, Liverpool Theatre School Showcase, The Arden, Kenan Ali's Stage Combat and throughout July 2018 we've hosted performances as part of the Greater Manchester Fringe Festival.
Specification
1 Spacious theatre – 15 meters wide – 7 metres deep
Seating for 140 people
Bar areas
1 x Rehearsal Room/Dressing Room
Toilets/kitchen area
Yoga/Dance Studio
Download our Tech Spec here
Where are we?
Our venue is only a short 8 minutes walk to the main Media City piazza, where you will find the Northern HQ's of ITV, BBC, plus Salford University, and big selection of great bars and restaurants.
Contact Us
Are you interested in having your event at 'The Empty Space' Media City? Then please email us info@footlightstheatre.co.uk – or use the form on the right, with a brief paragraph about what you aim to achieve, number of patrons/ audience and the content of your event. We'll then get back to you with a quote.